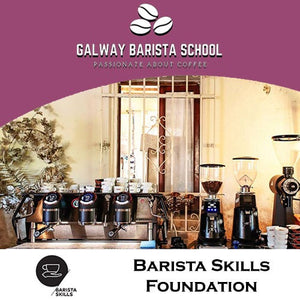 𝗕𝗮𝗿𝗶𝘀𝘁𝗮 𝗦𝗸𝗶𝗹𝗹𝘀 𝗙𝗼𝘂𝗻𝗱𝗮𝘁𝗶𝗼𝗻 - Wednesday December 6th 2023 | 10am-4pm
Regular price €0.00 €225.00 Sale
Barista Skills Foundation Level 
Our Barista Skills Foundation is a first taste of the Barista Skills discipline and is a great way to get insight into the world of Coffee.
The Foundation level requires no previous experience
Course Fee: €225 per person
Our Barista Foundation course includes the SCA Certification fee. However, in addition you are also required to pay a student enrolment fee of €50 fee directly to the SCA. (details of how to register and pay will be provided once booked)
Total fee for course is €275 (€225 + €50 SCA enrolment fee)
Course Outline:
This course will provide you with all the necessary skills required to make and deliver the key drinks menu for any coffee shop.
You will learn how to make a great espresso & milk texturing among many other areas vital to beginning your journey as complete Barista.
The following topics and more are covered in the course:

Differences between Arabica & Robusta Coffee
Cupping
Espresso Process: Grind, Dose, Tamp
Grinder Calibration
Extraction & Brewing
Sensory experience and evaluation
Milk texturing
Workspace Management & Workflow
Influence of roasting degree
Espresso Based Menu
Cleaning & Health Safety
Water Quality
Customer Service & Cafe Management 
Certification and educational materials are also included in the cost. 
There is an exam at the end of this course. The course certificate will be issued only if the student passes an online exam with a pass rate of 60% - If successful you will also be awarded 5 points towards your Specialty Coffee Association Diploma
Our SCA courses are recognised all around the world and are accredited by the SCA (Specialty Coffee Association). For more details visit www.sca.coffee
Duration: The course starts at 10 am and finishes at 4 pm approx. There is a lunch break 12.30pm. 
Location: The course is held at our training centre:
UNIT 11
MG Business Park 
Tuam 
Co. Galway
H54 F308